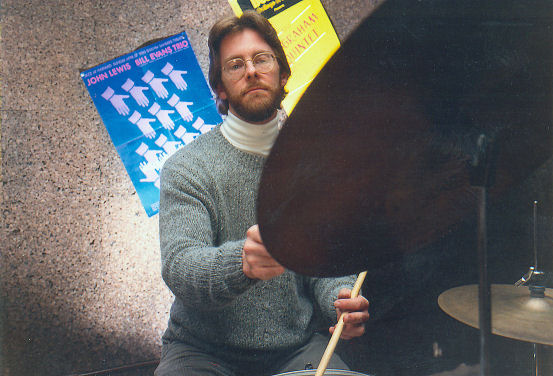 Drum Lessons - For Beginners to College level performers
Welcome to Gil Graham's Drumming Preparatory School
Conveniently located at the Arlington Center for the Arts, Gil Graham's Drumming Preparatory School provides drum lessons for beginning, high school, and college-bound drumming students in Arlington, Belmont, Concord, Cambridge, Lexington, Medford, Somerville, Wellsley, Wincester, Woburn and other Boston area communities in greater Boston and Middlesex county. Whether you are preparing for the high school orchestra or jazz band or want to study drums and percussion in college, Gil encourages all his students to learn proper stick control regardless of their musical preference whether it is rock, latin, funk or jazz. Semi-private and class instruction are also available.
Learn More Than a Drum Beat--Learn Your Instrument! You Can Do It--It's Up To You!
-Gil

Though Gil is always thrilled to give private drum lessons to anyone interested in the world of percussion, Gil Graham's Drumming Preparatory School (DPS) goes a step further. If you are aiming to major in music at college or are the parent of someone who does, Gil Graham's Drumming Preparatory School will offers a unique combination of private drum lessons and labs geared expressly towards college level performance skills on the drum set.
Drum lessons at Gil Graham's Drumming Preparatory School offer:
A simple, enjoyable, systematic approach for all ages
Hand development
Stick control
Independence
Reading/Sight Reading
A focus on the music you want to learn (eg. funk, jazz, latin, rock, etc.)
And a drummer's most important function... TIME
Gil Graham has over 30 years of teaching experience. For 14 years he was on the faculty of the Berklee College of Music in Boston, MA and also formery on the faculty of the New England Conservatory Extension. He has also written and published a highly praised book, titled Beginning Drum Chart Reading. More...
A few testimonials (More...):
"I was a little rough around the edges when I went in, and I feel more polished now and an overall better player" - Berklee Student
"Gil is the type of teacher who goes straight to the problem and doesn't waste the student's time" - Adult Professional
"Gil was the best introduction to professional drumming I could have wished for. He showed me how to take my drumming to a much higher level"- Berklee Student
"He saw the problem and gave me the tools to easily solve it." - Adult Beginner
Private Lessons: $70/hour & $35/half-hour